Esto suena, más o menos, como The Pineapple Thief pero con Gilmour en la guitarra, influencias de RPWL y haciendo un poco de música étnica y enmarcado en mucha música atmosférica. Un trabajo muy completo y entretenido, muy recomendado para los que gustan de los climas, las atmósferas teatrales, las texturas, los exquisitos solos de guitarra, de las canciones que transmiten emociones y sensaciones, en fin, otra cosa que les recomiendo que conozcan...
Artista:
Ali Ferguson
Álbum:
A Sequence Of Moments
Año:
2016
Género:
Crossover Prog
Duración:
72:00
Nacionalidad:
Escocia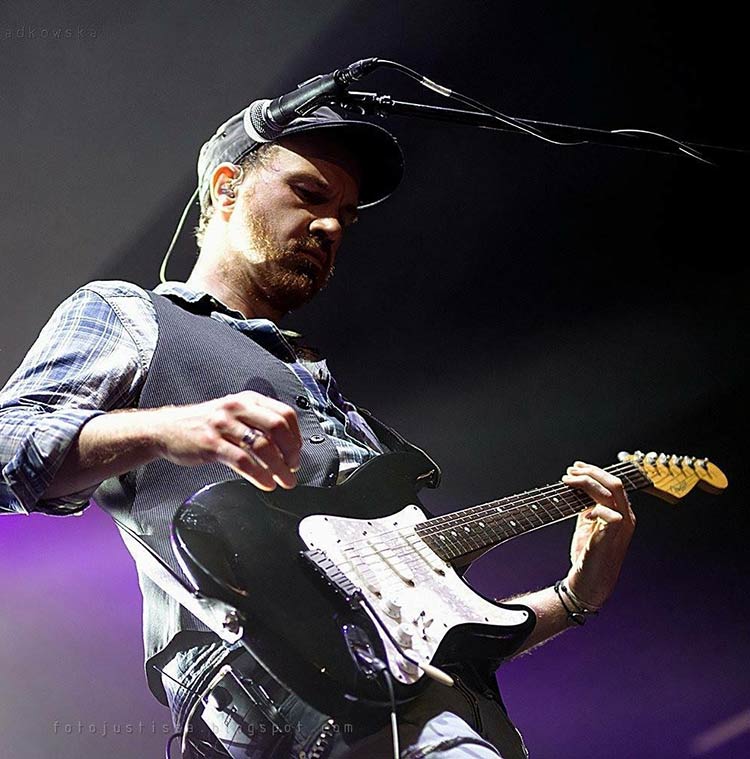 Muy lindo y calmante neo-spacerock. Nunca había oído hablar de este artista, pero hace un gran trabajo al recrear lo que
Pink Floyd
hizo tan bien.
Un largo disco (72 minutos) con canciones donde lidera el énfasis en la creación de paisajes sonoros y ambientación para soñar despierto, música que pretende ser soñadora y atmosférica. A veces cercano al neo-prog con bastantes dosis de space rock. Música para ser absorbida fácilmente, para perderse en la instropección, para ayudar a pasar el tiempo de una manera muy agradable. No hay canciones "malas" ni débiles. Todas ellas son interesantes y eminentemente atractivas, conmovedoras y bien realizadas y llevadas a cabo.
En definitiva, otro lindo disquito entre todos los que hay en el blog cabezón.
Ahora presentamos una música cinematográfica muy interesante del escocés Ali Ferguson (que trabajó previamente con Ray Wilson en
Stiltskin
). El álbum contiene buenos ritmos y exuberantes tonos sonoros, grandes pasajes de guitarra, voces agradables y collages de climas que atraen y hacen que uno piense y sienta. Es un espléndido trabajo cósmico, pintado en filamentos atmosféricos compactos, perfumado con una miríada de aromas sonoros y sabores tonales, creando así una obra cinematográfica que se atreve a hacerte fantasear.
El comienzo de este disco me sorprendió con climas y punteos muy a la manera de Pink Floyd, a tal punto que el parecido es inequívoco con cosas que ya todos conocíamos. Tal vez, en esa introducción, la intención del artista fue tributar un homenaje a la legendaria banda inglesa. Pero luego de esos primeros minutos, la música se va encausando adecuadamente por un rumbo de inspiración más personal, más propia, y allí es realmente donde el álbum tiene un alto interés. Ali Ferguson aporta su muy buen gusto para componer, para interpretar, logrando una hermosa obra de progresivo con momentos de gran calidad. Dentro del espectro actual, sobresale sin duda como un trabajo estupendo y es imposible no mencionarlo o dejar que pase desapercibido. Habiendo actuado como primer guitarrista de artistas de renombre en el ambiente (por ejemplo Ray Wilson), este músico escocés edita su segundo disco en solitario, después de transcurridos cinco años de su anterior ¨The Windmills and the Stars¨del 2011. Tendríamos que transformarnos, en cierta medida, en cómplices de los ¨tiempos¨ del músico, para poder disfrutar de los excelentes temas que nos ofrece una vez que nos adentramos en ese camino que Ferguson invita a recorrer a quien lo escuche. Una obra conceptual que se desarrolla bajo un manto continuo de efectos, diálogos espaciales en segundo plano, sugerente ambient uniendo las canciones, una grabación impresionante. En definitiva, un tremendo disco del 2016. No deberían perdérselo.
ConOpus
El sonido general es muy claro y definido. Las voces son muy buenas, tal vez porque la mayoría de las canciones son con dos voces (masculinas y femeninas). Punto negativo para la batería que está programada, pero apenas nos damos (incluso yo me dí cuenta mirando los créditos del álbum) cuenta porque no solamente suenan muy de tracción a sangre, suaves y acústicos. Ali consigue estirar sus composiciones, envolviéndolas en una variedad de adornos y arreglos. Ojo, nada aquí es complejo, al contrario, el camino que busca el artista es otro.
La primer canción de 10 minutos es un despertar introspectivo con reminiscencias árabes conjura imágenes de dunas de arena, exuberante oasis y nos habla sobre la divinidad, en medio de sonidos atmosféricos densos y tensos y susurrando palabras significativas. Gran canción. Muy contemporánea y agradable.
Le sigue "Out Of The Dark" con sintetizadores y guitarra acústica abriendo la canción,.donde voces susurrantes se unen aen un ambiente sintetizado, densamente melancólico y luminoso, pero de alguna manera lleno de misterio e introspección, persuasivo pero frágil, expresando una sólida sensación de liberación y libertad, congas y otras percusiones pronto se unen para proporcionar el ritmo. Finalmente, el piano, el violoncelo, las cuerdas y la voz femenina del fondo también se ensamblan en la mezcla, enriquecedora gama de colores con solo de guitarra superlativos.
La canción homónima comienza con los sonidos ambientales de una mujer poniendo a su hija en el teléfono para que diga: "Hola papá, yo sólo quería saber a qué hora regresas a casa", Luego las pacíficas incursiones de sintetizadores y percusiones electrónicas hacen de soporte a la voz profunda y emotiva. Una canción de cuna electrónica, con un coro ue brilla a través de las nubes y se convierten en vida, donde el piano lleva la mayor parte hasta que el solo de guitarra acústica pastoral hace su juego magnífico.
Continuamos con "The Realization", más sonidos sintetizados espaciales sobre la voz, en donde una guitarra blusera entra en la amplitud para lanzar algunas notas maravillosamente texturizadas, envuelto en brillo electrónico y poesía enmarcan un momento de liberarse.
"Is This Enlightenment?" se abre con un Klaus Schulze al que se le une la voz distorsionada y susurrante de Ali, y se mezcla con otras cintas políticas antes de que una especie de instrumento de viento nos siga en una sección que se basa en una pista de ritmo programada, antes de que un agradable solo de guitarra española tome el protagonismo de manera fascinante. Las progresiones de acordes árabes llenan el fondo con la percusión tocando un ritmo calmo hasta que un crescendo de múltiples instrumentos aparece antes de que las cosas se calmen nuevamente y las muestras religiosas se hagan presente una vez más.
Le sigue "Into Falling Stars" y aquí se emplea una voz débil, casi una respiración, quizás demasiado tratada al estilo Gilmour, una canción casi desnuda y muy minimalista instrumentalmente con un buen solo de guitarra en la segunda mitad que levanta bastante una canción un tanto flojita.
Y llega "All In The Winds" que abre con una sensación muy lenta y espaciosa a los
Pink Floyd
, todo creado desde la programación. La impetuosa influencia de Pink Floyd se encuentra en toda la épica de 9 minutos de esta canción, floreciendo con teclados electrónicos y templanza vocal, construyendo sin prisas hasta una meseta expansiva en la que la guitarra se une, con absoluta delicadeza, a la evolución de la canción que apunta hacia el significado de ñas palabras más habladas que cantadas, un ritmo que consolida la sección media y así prepara el camino para un fraseo que se arrastra y se estremece.
Y así llegamos al anteúltimo título "The Lost Satellites", una aventura que se transforma en una melodía alegre, recordando a otros fanáticos de Floyd y RPWL, algún recuerdo de Mark Knopfler en los punteos, una canción que mantiene abierta la variedad mientras que contiene algunos solos muy bien logrados.
Y llegamos al final con "Above This Fractured Earth" que comienza con otro acompañamiento espacial, climático, reavivando los climas de un patio de recreo con los niños jugando, mostrando su inocencia, ajenos a cualquier dificultad y decepción, y aparece el piano, una voz emotiva, mientras la guitarra hace su juego, el que más le gusta, creando sensaciones, sintiendo, emanando emotividad. Eso es lo que más le gusta y lo que mejor sabe hacer.
Un trabajo muy completo y entretenido, muy recomendado para los que gustan de los climas, las atmósferas teatrales, las texturas, los exquisitos solos de guitarra, de las canciones que transmiten emociones y sensaciones, en fin, otra cosa que les recomiendo que conozcan...

Lista de Temas:
1. Why Are We Whispering?
2. Out Of The Dark
3. A Sequence Of Moments
4. The Realisation
5. Is This Enlightenment?
6. Into falling Stars
7. All In The Winds
8. The Lost Satellites
9. Above This Fractured Earth
Alineación:
- Ali Ferguson / guitars, vocals, keyboards, programming
- Chris Agnew / bass
- Lawrie Macmillan / bass
- Liam Saunders / keyboards
- Kim Shepherd / backing vocals
- Duncan Ferguson / strings
- Kerstie Barr, Scott Spence, Amelie Spence, Carolyn Reid, Finlay Reid, Isla Reid, Francesca Reid, Nadia Czajkowska / spoken word